Jesolo and surroundings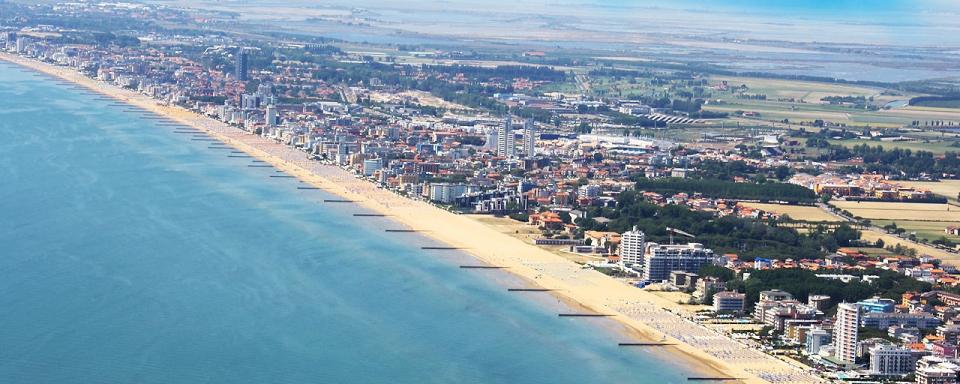 The long Jesolo beach
The long Jesolo beach (15km) is full of fun, sport activities, races and competitions of any kind and for any age. An array of pubs, bars, excellent restaurants and shops constantly ensure refreshments and hospitality to thousands of tourists looking for sun, good food and shopping.
A never-ending universe that offers entertainment, events and pubs open all day long (depending on the day) able to meet your tastes and desires. From 8 p.m. to 6 a.m., Jesolo becomes a pedestrian area: a boundless, fantastic place, full of cheerfulness, flavours, fun and a pinch of craziness too.
A holiday in Jesolo immerses you in a lively and involving atmosphere. The beach with its sea promise days of absolute relax. But Jesolo is as well the right destination for those who are looking for nature to discover and to explore: excursions, trekking, bike and horse rides, bird watching, etc...
A landscape to discover through Jesolo by Bike: 150 km bicycle tracks designed and planned for any demand. Excursions: Venice night and day, Lagoon Islands, Verona and its Arena, Lake Garda, Cortina and the Dolomites, trips through the littoral areas, Roman Cathedrals and Abbeys, the famous Marca Trevigiana, the Sanctuary of Motta di Livenza and many others.
Close to Residence Valentina you will also find: Venezia Golf Club, Jesolo's Sailing Centre, as well as the equestrian centre, the gym, tennis and five-a-side football courts, Jolly Roger's pirate ship, funfairs, Aqualandia, Europe's largest aquatic park, the Pista Azzurra karting track, Aquarium and Sea Life and Limobus service (the stop is just 50 m from the residence). Two limobusses will take you through 20 km of littoral areas, letting you discover the most glamorous night clubs, casinos and discos.